Some of the Heritage Harbour boat owners were itching to get out for some friendly competition, and so a challenge was sent around.  Oarlock & Sail participated with all three sailboats – we had decided to limit the number of people at the dock for this, so the invite was only sent to some of the more active sailors.
It started with a very low wind and strong incoming tide, so just getting to the start line was a challenge for most of our engine-less boats!  Everyone eventually made it across the start line, but by that time the racers had become impatient, and the race was started on an "as you come" basis.  The clear winner was not even under sail, as Tom in the Vogler took advantage of the low wind, and made it 'round the gravel barge first!  Other than that, the results were a bit foggy, due to the staggered start – Arnt & Valerie in Anja were perhaps the next across, but whatever the results, the breeze came up, and everyone had a good time!
The fleet consisted of:
Bruce in his freshly rigged and christened dinghy Polaris
Barry with his turquoise boat Dagon
Duane on the lovely  Querencia
Arnt and Valerie on Anja
Dale S with his SCAMP Luna
Bob in Enke
Ingrid in Ragna
Daniel in Button Swan
Tom in Vogler
Bourton as observer in his aluminum workboat
Some more photos and video from the day are available here.  Thanks to Valerie and Dale for your photos!!  I expect I'll update this once Duane has a chance to make his photos/videos available.
As promised, here are a couple of videos from Duane – thank you!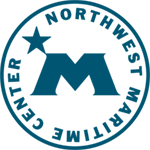 The Northwest Maritime Center has a series of online workshops available, on Navigation & Seamanship, as well as a Build a Pram course.  The pram course involves a kit, but you can register to observe the process for free.  The Navigation series are $75 per course.